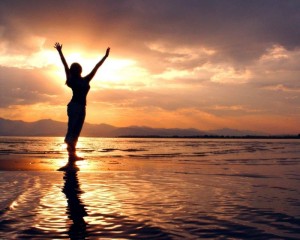 I think one of the most powerful things we can do to create change in our lives is to give up 'our story'. By this , I mean to let go of parameters and limiting beliefs that we have brought from previous experience into present day. When we do this, we allow ourselves to fully embrace all the opportunities and our highest potential in the here and now.
In this great article on how exactly to do that, Scott Peck, psychologist and author of the best-seller " The Road Less Travelled" , teams up with his wife to discuss the importance of being able to surrender our pasts if we are to embrace our bigger and higher potentials in the present.
In the article, Peck says " Think of your story as a movie, with you in it. You may have been handed the script by your upbringing or some event, but you are free to walk away from that life script anytime — like right now! And you can choose a higher way of thinking, outside the script. Who would you be if you weren't the person in the script?"
In therapy, this is also known more commonly as "The Miracle Question". Another way of looking at this would be , for example – if you could suspend reality for the next 10 mins, what would you ask for in your life? What are the things that you truly want but that your existing beliefs about what is and is not possible have been holding you back from working towards? And most importantly, are you ready to give up what you think you 'know' and are used to believing in to embrace this bigger, brighter and more fulfilling future that is ready to embrace you?
I work with clients to make sense of their stories from the past , but ultimately with the objective to transcend them and to own their own story , in whatever shape or form its comes in, in the present. Ultimately, we all have a choice about what beliefs we want to create and hold for ourselves in our current lives (even if it sometimes does not feel this way), but to do this, we have to be willing to let go and surrender the things from the past that may no longer be serving us in the present.
For more on learning how to create the story you want in the present, contact Anoushka at anoushka@abehpsych.com.
References
http://www.awarenessmag.com/julaug06/ja06_heart_of_love.htm, The Heart of Love, Moving Past Your Story. Scott and Shannon Peck.